Experience Unparalleled Luxury
with Our Private Sunset Cruise in Miami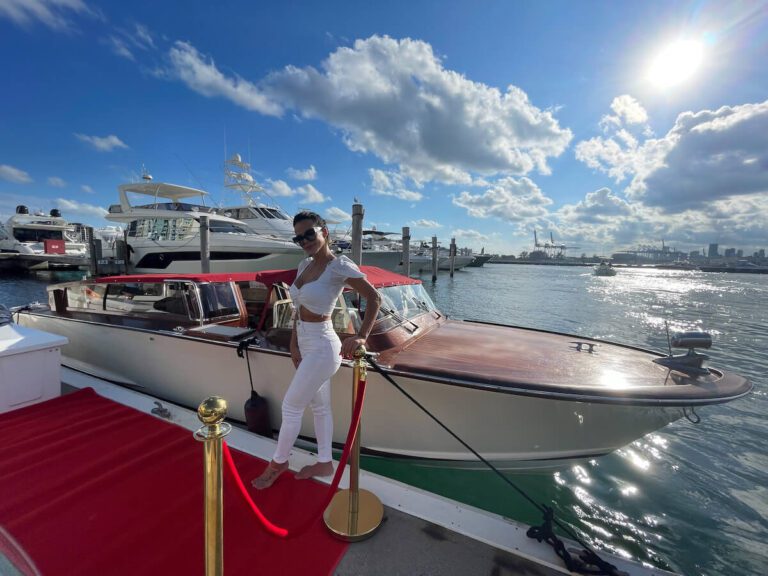 Indulge in the epitome of opulence and elegance with our exclusive Sunset Cruise aboard the "Venice in Miami," your private Venetian Water Limousine. As the sun dips below the horizon, painting the sky with vibrant hues, embark on a 2-hour journey that will leave you spellbound. Discover the best things to do in Miami as you bask in VIP treatment, cruising the azure waters of Biscayne Bay and exploring the iconic landmarks that define this captivating city.
Experience the Magic of a Private Charter
Your evening of enchantment begins as you step aboard the "Venice in Miami," a masterpiece of maritime craftsmanship. This luxurious Cantiere Serenella yacht, a testament to Venetian-style grandeur, stands as a captivating work of art, meticulously constructed from wood. Admire the intricate details that adorn this vessel, a true embodiment of high-end luxury.
Sail Along Millionaire Row and Beyond
Setting sail from the heart of Miami Beach, you'll be treated to a visual feast like no other. Your private charter will carry you past the illustrious Millionaire Row, where mansions of the elite line the waterfront. As you glide by Hibiscus Island, Palm Island, Sunset Island, Fischer Island, and the iconic Venetian Islands, you'll find yourself immersed in the allure of South Florida's most exclusive neighborhoods. No journey is complete without a glimpse of the iconic Cape Florida Lighthouse, standing proudly as a sentinel against the backdrop of the open sea. Feel the exhilaration as you witness the transition from day to night, with the Miami skyline coming alive in a mesmerizing display of lights. This is the moment when Miami truly earns its reputation as a city that never sleeps.
Elevate your experience by opting for our exquisite red carpet champagne toast, a symbol of celebration and luxury. And what's a cruise without a delectable Charcuterie board to tantalize your taste buds? Indulge in a culinary masterpiece that complements the beauty of the Miami skyline.
As you revel in the sights and sounds of Miami's coastal wonders, our attentive crew will be at your service, ensuring that every moment of your private charter is imbued with comfort and splendor. Whether you're seeking a romantic escape, celebrating a special occasion, or simply savoring the finer things in life, our Sunset Cruise aboard "Venice in Miami" promises an unforgettable experience that will forever linger in your memories. No wonder it is voted the best in Miami.

Book Your Private Sunset Cruise Today
Escape the ordinary and embrace the extraordinary with our Sunset Cruise, a symphony of luxury and elegance that showcases the very best of Miami. Immerse yourself in the beauty of Biscayne Bay, relish the allure of Millionaire Row, and let the charm of the Venetian Water Limousine whisk you away on a journey that defines the essence of South Florida indulgence. Book your private charter now and elevate your Miami experience to new heights.
Great for Engagements or intimate evening. To get the full experience, we recommend a maximum of 4 guests for the sunset cruise – although you may have up to 6 guests.